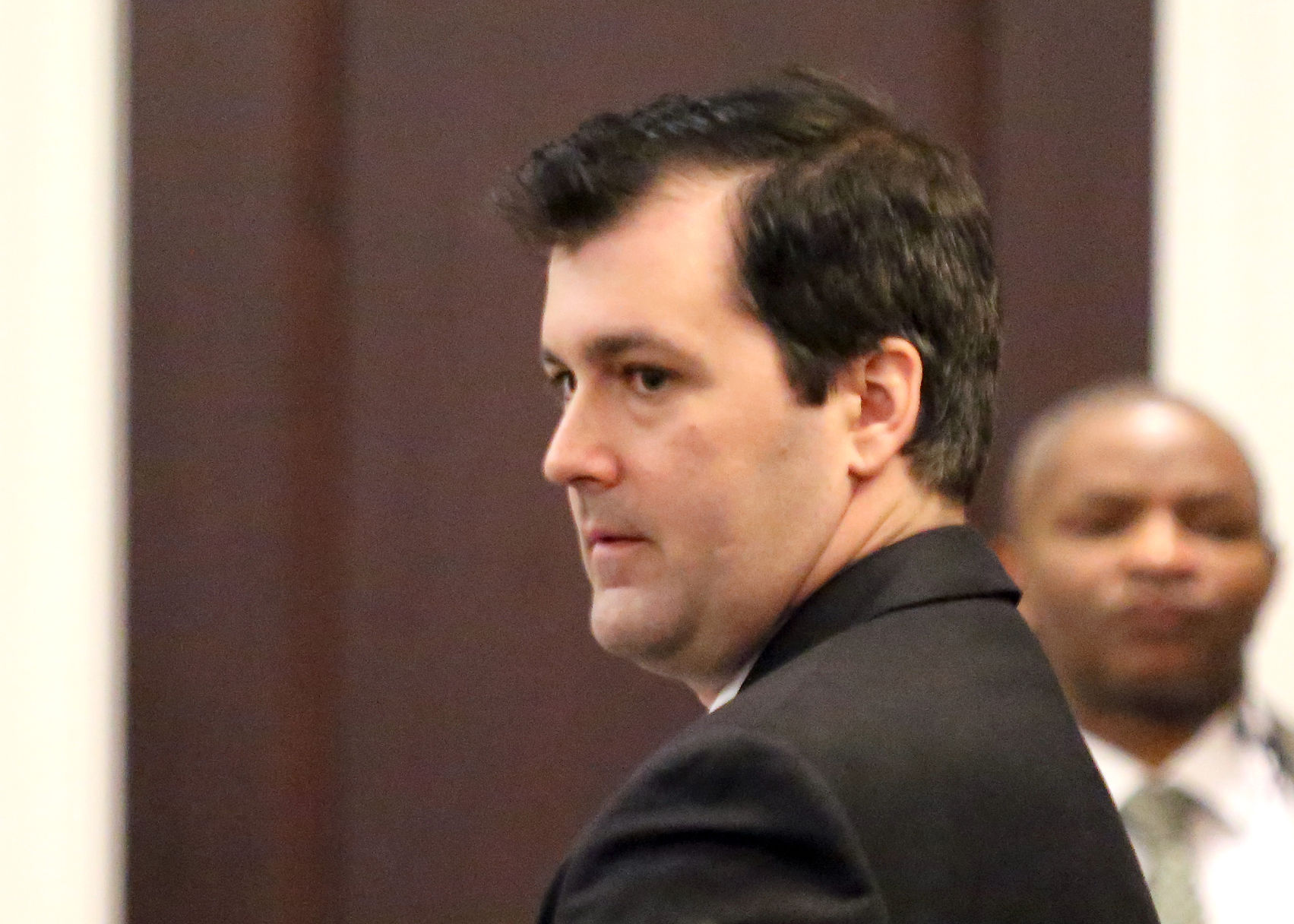 What Walter Scott did during his fatal confrontation with North Charleston officer Michael Slager and what the policeman said afterward quickly became the focus of the first day of Slager's sentencing hearing.
Slager, 36, already has acknowledged violating Scott's civil rights by repeatedly shooting the fleeing black man as a bystander filmed the encounter. He pleaded guilty to that in May, but key facts remain in dispute — a point on full display Monday at the federal courthouse in downtown Charleston.
Before hashing out a penalty, a judge must decide this week what underlying offense Slager committed in depriving Scott of his constitutional right to be free of excessive force: murder or voluntary manslaughter. After listening to three government witnesses, the judge gave no initial indication on how he might rule.
The proceeding is expected to resume Tuesday morning, possibly with another prosecution witness before the defense takes over.
Prosecutors said Scott was simply trying to escape a traffic stop, and they called eyewitness Feidin Santana to back up their contention that Slager murdered Scott and lied to cover his tracks.
They rejected Slager's explanation for the shooting: that he fired only after Scott took his Taser.
"I saw a man just determined to get away and leave," Santana said of Scott. "Like I say in the video, it was an abuse — something unnecessary."
It was the second time Santana publicly testified against Slager, whose murder trial in state court ended a year ago with a hung jury.
Portions of his latest account in U.S. District Court were geared toward helping Judge David Norton decide whether Scott's conduct contributed to Slager's decision to shoot. Prosecutors said no; it was wrong from the moment the officer first pulled the trigger.
But defense lawyers said Scott could have at any point stopped and surrendered, and lead attorney Andy Savage pressed Santana about whether Scott had ever raised his arms and given up.
"If that happened," Santana responded, "we wouldn't be here."
Santana's video footage of the April 4, 2015, killing brought national scrutiny to North Charleston amid a broader examination of police-involved deaths across the country. It also landed Slager in jail on a state murder charge when the cellphone clip emerged publicly three days later.
But the jurors in the state case were unable to agree on whether he had committed a crime.
At least one of them sat in the courtroom Monday, this time as an observer.
Slager wore jail clothes, his hands cuffed together. Before the hearing, Savage contorted his hands to resemble scissors and pretended to cut his client's shaggy hair. Later, the pale defendant was escorted out during an FBI expert's testimony, prompting a recess.
The former lawman's wife and parents sat in the gallery behind him. Across the aisle were Scott's loved ones, authorities and civil rights activists.
The hearing resembled a trial without the same rules of evidence and procedures that can slow proceedings. And the ultimate arbiter of justice is Norton, who can pick any sentence between no prison time and up to life behind bars. A pre-sentencing report suggested a term of between 10 and nearly 13 years in prison, but defense attorneys asked the judge Monday for a "significant" departure from those guidelines because of the role Scott played in his own death.
'Don't know what happened'
Though Norton already knows much about the case and last year's state trial, attorneys' quizzing of witnesses was deliberate, and the defense took time to attack their credibility. A prosecutor once fruitlessly objected to the methodical questioning.
Savage played a video that included Santana's footage, dashcam clips and police radio recordings. Defense experts' interpretations also appeared on a courtroom TV screen — a display that the state jury wasn't allowed to see.
It showed Slager stopping Scott's car for a broken brake light. The encounter, Savage said, was professional and ordinary until Scott climbed out and started running.
The officer used his Taser to try to stop Scott.
Scott fell, but he didn't stop.
They scuffled on the ground.
The defense's video included words Scott allegedly yelled — "(Expletive) police!" — as lawyers said he fought Slager.
But Santana, a Dominican Republic native who was walking to the barbershop where he worked when he saw the commotion, said Scott lay facing the pavement as Slager tried to control him.
"I never saw Walter Scott on top," he said.
But Slager has said that Scott flipped over and faced the officer before grabbing his stun gun, ripping it away and trying to use it.
They stood again. Slager used his left hand to grab Scott's right, which he said was holding the Taser.
As Scott turned, though, the video showed the device bounding backward behind the officer.
A second later, Slager had pulled out his pistol, aimed and started firing. Five of the eight bullets hit Scott from behind.
The defense pushed Santana to acknowledge that he hadn't seen parts of the confrontation. Santana had to run and catch up with the men. For a time, he couldn't see what was happening, he agreed.
By the time Santana started recording with his phone, the men were already on the ground.
"Before me getting there," Santana testified, "I don't know what happened."
'It was calculated'
Heated moments in the courtroom pitted Santana against Savage, who quizzed the witness on how much he had been paid for the video and how much the government had given him for travel expenses so he could testify. He was challenged about why he hadn't paid income taxes.
Santana, his voice growing firm, said he cared only about the truth and that he'd be willing to go to jail in defense of his story.
"I'm not here for any side," he said. "I'm neutral. … You're over here thinking I shot the man. I just recorded the video."
Slager, on the other hand, was portrayed as a liar from the time of the gunfire to the latest court filings in his case.
Lt. Charles Ghent, a State Law Enforcement Division supervisor involved in the investigation, said Slager recalled crucial details during a more than two-hour interview three days after the killing.
Ghent contended that Slager had made clear through words and demonstrations that Scott was coming at the officer when Slager opened fire, a point contradicted by the video.
Those were "deliberate lies," said Jared Fishman, a civil rights prosecutor from the Department of Justice in Washington, D.C.
An FBI video expert, Anthony Imel, displayed an image indicating the distances between Slager and Scott at each gunshot, starting at 16½ feet.
"The defendant's conduct was deliberate," Fishman had said earlier in the day. "It was calculated."
But Slager's defense lawyers pointed to documentation of the same interview in which the officer acknowledged that Scott was turning away when he started shooting, not charging at him. Slager's story has remained steady, his attorneys insisted, from when he said into his radio moments after the shooting that Scott had grabbed his Taser.
"There's no time in there to make up a story," Savage said.